Our Company

Deed Printing commenced trading in 1971 and was incorporated as a limited liability company in 1975 by company founders Bill and Ngaire Deed. The company is still owned and managed by Bill and Ngaire with 15 staff over the group of companies.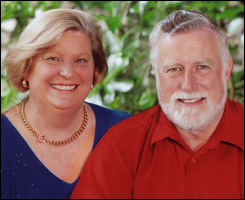 Bill and Ngaire Deed, managing directors
There are three divisions to the group:

Printing:
The printing division specialises in self publisher book printing, general commercial stationery including four-colour process work and in-house magazine production.

Stationery and Office Equipment:
We are part of the nationwide Office Products Depot group giving access to worldwide stationery affiliations and achieving very competitive prices.

Post Newspaper:
An associate company is the 10,000 circulation weekly Waiuku and Districts Post newspaper, well respected within its circulation area as the leader in its field.
W.J. Deed Printing Ltd
16 Bowen St, Waiuku, 2123
Phone 64-9-235 7133 Fax 64-9-235 9125
Email printing@deedprint.co.nz